Lekhana: A Literary Weekend, 10, 11 & 12 January, 2014
Once again, Lekhana (now in its third edition) brought together writers from Bangalore city to share conversations, discussions and readings with international writers resident at Sangam House.
Lekhana 2014 was held on January 10th, 11th and 12th. This year, the theme for the weekend was "Talking (about) Writing", and featured a weekend of readings, conversations about literature, performances and workshops, including workshops for children. All events were free and open to all, and were located in the JDP premises on MG Road, a new space that has been made available to arts organisations and groups.
Lekhana 2014 was presented by Bhoomija, and supported by JDP and Light Room Bookshop. Our partners were OutofPrint Magazine, the (Great) Indian Poetry Collective and Bookalore. The Lekhana bookstore was Atta Galatta.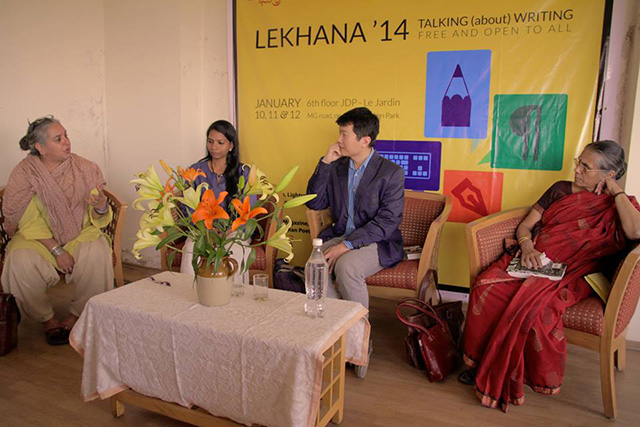 PANEL DISCUSSIONS & WORKSHOPS
Friday 6.00pm — Panel Discussion
Quantum Poetry & Other Anomalies: An Interdisciplinary Conversation about Art
Artists draw energy to vitalize their work from anywhere they can find it. How do other realms of life interplay with the creative process?
With Shikha Malaviya, Ellen Kombiyil, Arati Kumar-Rao, Margaret Mascarenhas and Suman Sridhar.
Saturday 10.30am — Workshop for Writers
How to get Published
An interactive session which looks at a manuscript from three angles: writing it, finding an agent for it, finding the right publisher for it. As well as contracts: what to look for and what to expect.
With Priya Doraswamy (Literary agent, Lotus Lane), Ajitha GS (Publisher, HarperCollins), Mahesh Rao (Writer).
Saturday 10.30am — Writing Workshop for Children at Lightroom Bookstore
Adventures in Story-spotting: Create story-sparks, draw a story-map and get tips on how to write a great story.
With Asha Nehemiah (Bookalore).
Saturday 2.30pm — Panel Discussion
What does Denmark write about?
Astrid Staalbach in conversation with Line Maria Lang, Peter Andersen and DW Gibson.
Saturday 4.00pm — Panel Discussion
Issues and Concerns in Contemporary Tamil Literature
Lakshmi Holmstrom in conversation with Jeremy Tiang, Kutti Revathi, Prema Revathi and Vasantha Surya.
Sunday 10.30am — Workshop
Tongues and Taboos: A Writing and Performance Workshop
Join us for an intense, intimate day of writing and performance skill-building, taught by members of The (Great) Indian Poetry Collective.
With Ellen Kombiyil, Minal Hajratwala, and Shikha Malaviya.
Sunday 2.00pm — Panel Discussion
Why does Bangalore Sprout So Many Playwrights?
With Kirtana Kumar, Ram Ganesh Kamatham, Swar Thounaojam, Deepika Arwind, Jeremy Tiang and Ramneek Singh.
Reading of Asif Currimbhoy's GOA from Selected Plays.
With Nirmala Mathan.
Sunday 4.00pm — Panel Discussion
On Queer Writing
This session brings together academics, poets, activists, biographers and journalists to think out loud about what is the role of queer writing in creating the worlds we seek to describe and inhabit.
With Gautam Bhan, Minal Hajratwala, Mahesh Natarajan, Joshua Muyiwa.
Sunday 6.00pm — Performance
Tongues and Taboos
READINGS
Saturday
11.00AM – 11.30AM Ellen & Margaret Mascarenhas
11.30AM – 12.00PM Jon Magidsohn & Seu Seongran
2.00PM – 2.30PM Shikha Malaviya & Minal Hajratwala
2.30PM – 3.00PM Vasantha Surya & Astrid Saalbach
3.00PM – 3.30PM Andaleeb Wajeed & Aruna Nambiar
3.30PM – 4.00PM Mahesh Rao & Usha KR
5.30PM – 6.00PM Lakshmi Holmstrom & Bishnu Mohapatra
Sunday
10.30AM – 11.00AM Jeremy Tiang & Line-Maria
11.00PM – 11.30PM Birgit Kempker & Ishita Basu Mallik
11.30AM – 12.00PM Jahnavi Barua & Glenn Diaz
12.00PM – 12.30PM Kutti Revathi & Laurie Patton
12.30PM – 1.00PM Swetanshu Bora & Milan Vohra
PRESS
Bangalore Mirror: An Intimate Tryst with Books
Live Mint: Let's Talk about Writing
Time Out Bengaluru: Wrote Memory
The New Indian Express: A Time and Space for Literature
The Times of India: An Intimate Tryst with Books