Lekhana: A Literary Weekend, 8, 9 & 10 January, 2016
Now in its fifth edition, Lekhana once again brought together writers from Bangalore city to share conversations, discussions and readings with international writers resident at Sangam House.
Lekhana 2016 was held on January 8th, 9th and 10th. The theme this year was The Sound of Silence, and featured a weekend of readings, conversations about literature, and performances. Special features this year were readings from the works of writers who returned their Sahitya Akademi awards, and an open forum on the efficacy of organisations like PEN and non-violent modes of dissent and protest.
All events were free and open to all, and were located in the IIHS (Indian Institute for Human Settlements) premises on Sankey Road.
Lekhana 2016 was presented by Bhoomija, and supported by IIHS. Our partners were OutofPrint Magazine and the Jamun. The Lekhana bookstore was Atta Galatta.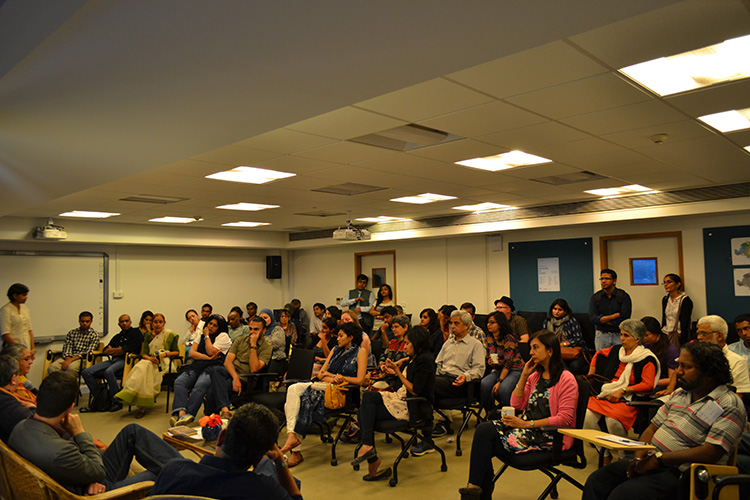 Schedule
FRIDAY, 8 JANUARY
7.00pm
Film Screening: An Old Dog's Diary (Dir: Shai Heredia, Shumona Goel)
Discussion with the film maker
SATURDAY, 9 JANUARY
10.00am to 11.00am
Keeping it Short
Mahesh Rao with Indira Chandrasekhar
11.15am to 12.15pm
The Archaeology of Nonfiction
Salil Tripathi, Raghu Karnad, Rohini Mohan with Arshia Sattar
12.30pm to 1.00pm
Reading
Rohini Mohan, Salil Tripathi, Raghu Karnad
1.45pm
Dramatised Reading: A Pound of Flesh
Vivek Madan, Salmin Sharief
2.00pm to 3.00pm
How do you say this in Kannada?
Vanamala Vishwanatha, Bageshree Subbanna, Srinath Perur with Chandan Gowda
3.15pm to 3.45pm
Reading
Chandan Gowda, Srinath Perur
4.00pm to 5.00pm
Warts and All: The Art of Biography
Suresh Menon, Nakul Krishna, DW Gibson with Sam Arni
5.15pm to 5.45pm
Reading
Suresh Menon, Nakul Krishna, DW Gibson
6.00pm to 7.00pm
Leaving Home: Traveller / Refugee / Migrant
Christopher Kloeble, Srinath Perur, Rohini Mohan with Salil Tripathi
SUNDAY, 10 JANUARY
10.00am to 10.50am
Andal: The Autobiography of a Goddess
Priya Sarukkai Chabria with Lata Mani
11.00am to 11.30am
Reading
K. Srilata, Sam Arni, Indira Chandrasekhar
11.45am to 12.45pm
Portrait of the Artist
Shai Heredia, Anjum Hasan, V Sanjay Kumar with Arshia Sattar
1.00pm to 1.30pm
Reading
Anjum Hasan, V Sanjay Kumar, Neal Hall
2.15pm to 3.15pm
In the Belly of the Beast
Zac O'Yeah, DW Gibson, Salil Tripathi with Sam Arni
3.30pm to 4.00pm
Reading
Saskya Jain, Uttaran Das Gupta, Zac O'Yeah
4.15pm to 5.15pm
Writing Fic-Tory
Saskya Jain, Uttaran Das Gupta, Raghu Karnad with DW Gibson
5.30pm
Is PEN Mightier than the Sword
Salil Tripathi, DW Gibson, Aakar Patel, Arshia Sattar
Press
Bangalore Mirror: Don't Call it Litfest, It is Not
Business Standard: Sound of silence, echoes of protest at Lekhana in Bengaluru
The Economic Times: Bengaluru to host the fifth 'Sounds of Silence' literary event
Live Mint: Books, discussions and more
Little Black Book: Readings, Discussions & Screenings: It's All About Literature at Lekhana 2016
The Hindu: This year, Lekhana will heed to 'sound of silence'