Season 9
ANTARA GANGULI (English: Fiction)
Born in Kolkata, Antara grew up in Bombay. Her novel Tanya Tania, an epistolary coming-of-age novel set in 1992 between Karachi and Bombay, was published by Bloomsbury India in July 2016. Antara has written for The Atlantic Monthly, The Wall Street Journal, Stanford Social Innovation Review, Times of India, Indian Express and others. She is a 2014 Asia Society Young Leaders Fellow and works in international development with a focus on gender equality and currently lives in New Delhi.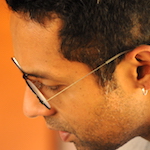 DEEPAK UNNIKRISHNAN (English: Fiction)
Deepak is a writer from Abu Dhabi who now lives in Chicago. He has studied and taught at the School of the Art Institute of Chicago and presently teaches at New York University Abu Dhabi. Temporary People, his first novel, won The Restless Books Prize for New Immigrant Writing.
ESTHER BECKER (German: Drama)
Esther is a freelance writer and performer. She has a master's degree in Scenic Arts Practice from Bern University of the Arts (HKB) and studied Literary Writing at Swiss Literary Institute Biel (HKB) and German Literary Institute Leipzig  (DLL). Her play Supertrumpf was awarded with an Invitation to Heidelberg Play Market 2013 and the Kathrin-Türks Award 2014. She is a member of the performance collective bigNOTWENDIGKEIT and at the moment part of the Swiss Playwright Program Dramenprozessor 16/17.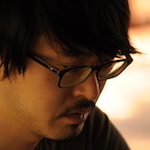 HWANG YU-WON (Korean: Poetry)
Hwang was born in Ulsan in 1982. He received a B.A in Religious Studies and Philosophy from Sogang University and is currently getting his Ph.D in Indian Philosophy at Dongguk University. He made his debut as a poet, winning the Munhakdongne New Artist award in 2013. He has published over eighty poems in numerous literary magazines during the last three years. His first book of poetry Everything in the World, Maximized, was published in 2015, was awarded the 34th Kim Soo-young prize, which is one of the most famous poetry awards in Korea.
JOAN MICHELSON (English: Poetry)
Joan won first prize in the Bristol Poetry Competition, UK, first prize in the Torriano Competition UK, and she was awarded the Hamish Canham Prize from the Poetry Society of England.  Her writing has been selected for both British Council and Arts Council anthologies of New Writing. Her poems have been published in a variety of literary magazine. She has published a full collection, Toward the Heliopause, and a chapbook, Bloomvale Home. Originally from New England, she lives England.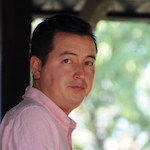 JUSTIN GO (English: Fiction)
Justin's first novel, The Steady Running of the Hour, was published in 2014 by Simon & Schuster and has been translated into twenty languages. Born in Los Angeles, he was educated at the University of California, Berkeley and University College London.  At present he is at work on his second novel.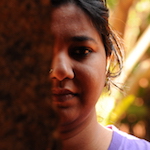 KRUPA GE (English: Fiction, Nonfiction)
Krupa is a writer and journalist from Madras. She is the founder/editor of the literary magazine The Madras Mag (www.madrasmag.in). She was shortlisted for a Toto Prize in Creative Writing in 2016. Her short fiction has appeared in Papercuts, Blink Ink, Scroll, Sahita Akademi's Indian Literature, etc. Her reportage and cultural writings have appeared in publications such as The Hindu, The New Indian Express, Firstpost, etc.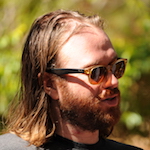 MAXIM LOSKUTOFF (English: Fiction)
Maxim was raised in western Montana. His stories have appeared in The Southern Review, The Gettysburg Review, Witness, Narrative, and The Chicago Tribune. A graduate of NYU's MFA program, he was the recipient of a Global Writing Fellowship in Abu Dhabi and the M Literary Fellowship in Bangalore. Other honors include the Nelson Algren Award and an arts grant from The Elizabeth George Foundation.
MICHAEL FEHR (German: Fiction, Drama)
Michael grew up in Muri, near Bern. He studied at the Swiss Institute for Literature and the Bern Arts College, where he gained his Master degree in Contemporary Arts Practice. In 2013 he published his first work of fiction called Kurz vor der Erlösung (On the Verge of Salvation), 2015 followed his second work Simeliberg. Michael is also a storyteller and works together with the guitarist Manuel Troller to compose music to his lyrics, which then are performed on concert stages. Fehr supports Babelsprech and Treibhaus, two initiatives to promote young German literature.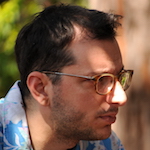 PANAGIOTIS KECHAGIAS (Greek: Fiction)
Panagiotis was born in Athens and studied Psychology at the University of Crete and at Panteion University. His reviews, articles, and photography regularly appear in magazines and newspapers. In 2016, Antipodes will publish his debut in Greek, a short story collection, Final Warning. He is the co-founder of independent English-language micropress Pilotless Press, which publishes original fiction by Greek authors writing in English.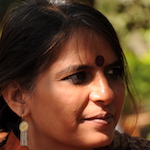 RITA KOTHARI (English: Translation)
Rita is a Professor of Humanities and Translation Studies at the Indian Institute of Technology Gandhinagar in India. She is a reputed theorist and practitioner of translation with numerous books and awards to her credit. She has also done extensive work on borders, partition and language politics in India. Her notable monographs include Burden of Refuge: Partition, Sindh, Gujarat; Memories and Movements: Borders and Communities in Banni, Kutch, Gujarat; and Translating India: The Cultural Politics of India Kothari. She has translated The Stepchild by Gujarati Angaliyat, the first Dalit novel, as well as poetry and short stories from Sindhi and Gujarati. She is currently editing A Multilingual Nation: Translation and Language Dynamics in India (forthcoming, Oxford University Press) and translating Agnipariksha, a memoir based on riots of 1969 in Ahmedabad.
SAUMYA ROY (English: Nonfiction)
Saumya Roy is a journalist and social entrepreneur. She has written for Outlook, Mint, Forbes, Bloomberg News, and The Wall Street Journal website. She then set up Vandana Foundation, a non profit that supports livelihoods of the poorest of poor in urban and rural Maharashtra. She is working on a book project that chronicles the lives of rag pickers at Mumbai's Deonar garbage mountain. It is about life on the world's largest garbage mountain, the communities it sustains and its possible closure.
SRINIVSAN NATARAJAN (Tamil: Fiction)
Srinivsan is a painter and writer.  He has established a reputation as a New Age artist and has won accolades for his avant-gard​e approach in art and art criticism. He has written a book on art and culture, Namodu than peasukerarhal, and a novel Vidampanam.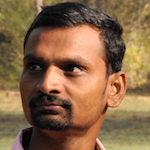 STALINRAJANGAM (Tamil: Nonfiction)
Born at Munnurmangalam Village in Tamil Nadu's Thiruvannamalai district, Stalin has recently submitted his PhD Thesis. He is currently working as a lecturer in Tamil Literature at the American College in Madurai. Belonging to the second generation of Tamil Dalit writers, he has published six books so far. He is a member of Tamil literary magazine Kalachuvadu's editorial board. He is engaged in intensive research on one of the pioneers of Dalit intellectual tradition, Pandit Iyothee Thass who was rediscovered after almost a gap of a century.  He has been writing extensively in Tamil on his research areas of interest, which include historiography, literary criticism, media research and film and cultural studies. He is living in Madurai with his wife Jayapoornima and two sons Buddha Mitran and Adhan Siddarth.
VASUDHENDRA (Kannada: Fiction)
Vasudhendra was born in the Ballari district of Karnataka. After working as a software professional for more than twenty years, Vasudhendra now runs his own publication house, Chanda Pustaka, which publishes and encourages new writing in Kannada and has instituted the Chanda Pustaka Award which recognizes young short storywriters. He is also associated with local support groups for LGBT individuals. The author of thirteen books in Kannada, that have sold over 80,000 copies, Vasudhendra has won many literary awards, including the Kannada Sahitya Academy Book Award, the Da Raa Bendre Story Award and the Dr U.R. Ananthamurthy Award.